Race Medic- Yachting Course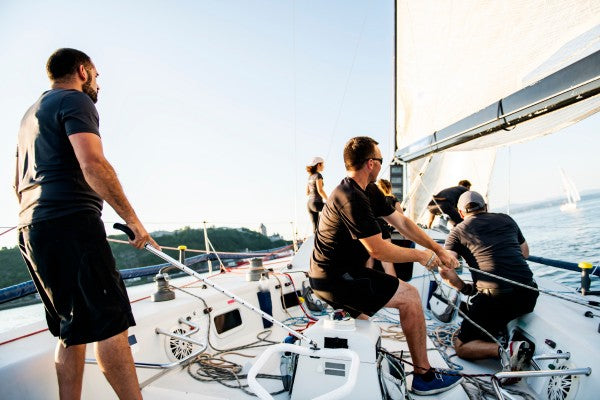 Group training course for yacht clubs who engage in racing. This course requires 8 people minimum to run.
This intense 4 hour first aid course can be delivered at your yacht club.
The course is delivered by our medics who have experience with yacht racing and common injuries that can occur.
The course can run with a minimum of 8 people up to a maximum of 20 people.
Course content includes
Resus & CPR
Defibrillation
Bleeding
Burns & Scalds
Shock
Fractures & Dislocations
Hypothermia and Heat related injury
Seasickness
Medical Care of a rescued person
Travel charges for the trainer can apply for remote yacht clubs outside of major centres. This charge is capped at $250.00
Shipping & Delivery
For items in stock at the time of order, dispatch will be made within two working days of receipt of an order. Complete Medical Kits will take an extra day or two to supply.
For items not in stock at the time of order we will provide an expected dispatch date from our premises as soon as this information is available.
Please ensure that you supply us with your full and correct shipping address. A physical street address is required and PO Box or Private Bag numbers are not acceptable. If you have any special delivery instructions please advise when placing your order. We cannot accept responsibility for orders that go missing if the address details you have provided to us are incorrect. If you supply us with a false address we will not ship the products. If you fail to supply a valid address after 7 days we will cancel your order.
Orders received on a day which is not an ordinary working day (i.e. a Saturday, Sunday or pubic holiday) will be processed on the following working day.
All orders are given a tracking number so that we can identify where the products are if there is a delay in receipt of goods.
We cannot guarantee a delivery time but we will do everything we can to get your products to you in a timely fashion. Delivery may take up to 5 working days, depending on your location. Items may take longer to get to you during busy periods and public holidays
If you do not receive your purchase within 5 working days please contact Customer Services on info@oceaniamedical.co.nz .