The Ship Captain's Medical Guide - 23rd Edition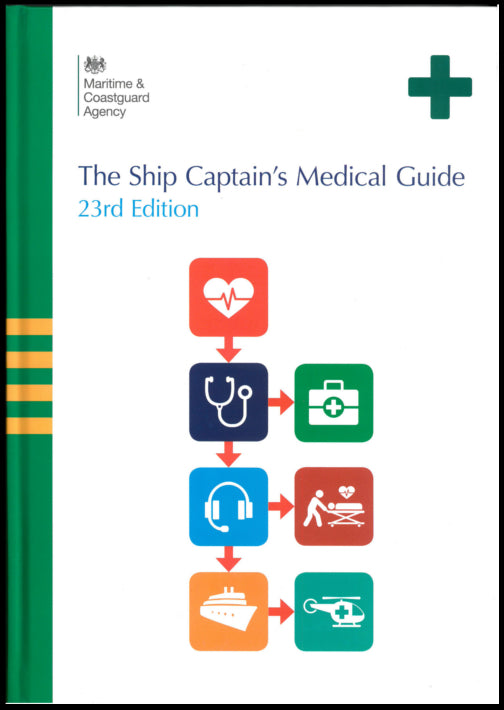 Ship Captain's Medical Guide is intended primarily for use on ships where no doctor is available and it is necessary to assess and treat injuries and to diagnose and treat ill health. It contains:

Flow charts to aid evaluation and treatment
Incorporation of 'red flags' to aid identification of potentially life-threatening conditions
Clear, authoritative advice and easy-to-follow guidance
Step-by-step illustrations to explain emergency procedures
Cross references to further detail
Anatomical illustrations
It is the owner's and captain's responsibility of the sailing vessels to carry medical stores to a standard defined in law, and to provide seamen with a certain standard of accommodation and working conditions. In addition, every ship is required to carry a medical book, containing instructions for dispensing the medical stores.
For both Maritime New Zealand Commercial Boats and Superyachts alike.
If not in stock, can take 2 weeks to supply.
Shipping & Delivery
For items in stock at the time of order, dispatch will be made within two working days of receipt of an order. Complete Medical Kits will take an extra day or two to supply.
For items not in stock at the time of order we will provide an expected dispatch date from our premises as soon as this information is available.
Please ensure that you supply us with your full and correct shipping address. A physical street address is required and PO Box or Private Bag numbers are not acceptable. If you have any special delivery instructions please advise when placing your order. We cannot accept responsibility for orders that go missing if the address details you have provided to us are incorrect. If you supply us with a false address we will not ship the products. If you fail to supply a valid address after 7 days we will cancel your order.
Orders received on a day which is not an ordinary working day (i.e. a Saturday, Sunday or pubic holiday) will be processed on the following working day.
All orders are given a tracking number so that we can identify where the products are if there is a delay in receipt of goods.
We cannot guarantee a delivery time but we will do everything we can to get your products to you in a timely fashion. Delivery may take up to 5 working days, depending on your location. Items may take longer to get to you during busy periods and public holidays
If you do not receive your purchase within 5 working days please contact Customer Services on info@oceaniamedical.co.nz .