Celox First Aid - 2g Sachets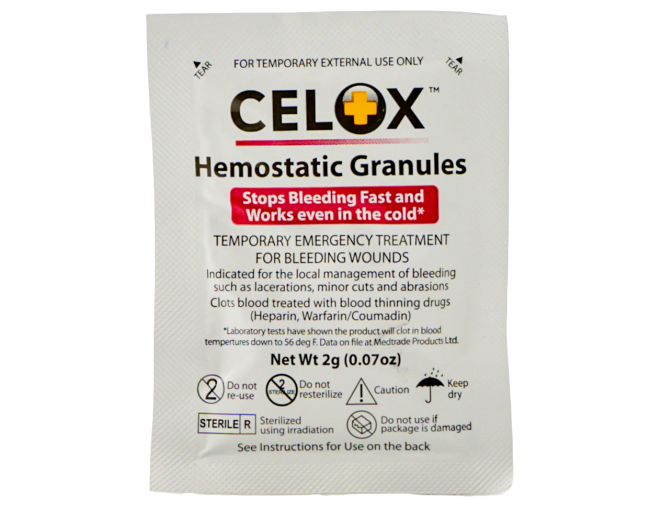 Stop bleeding from minor cuts, lacerations and abrasions at home, at work, for leisure, for travel. Be prepared with Celox First Aid Granules.
Celox™ Granules are large flaky granules contained in sterile pouches that are small, flat, lightweight and easy to store and carry.
AT HOME OR ON THE GO
Accidents always happen at the worst times but Celox™ First Aid can help to get control of bleeding injuries. FDA cleared, Celox™ Granules work fast to stop bleeding from minor cuts, lacerations and abrasions. Lightweight, compact and affordable – perfect for the kitchen, at the workbench, sports, hobbies, camping and whenever you are on the move.
TAKING BLOOD THINNERS?
Use of blood-thinning drugs is on the rise in the US, nearly 28 million prescriptions for blood thinning medications were filled by pharmacists in
2007.25 Blood thinners or anticoagulant drugs are vital in preventing strokes or blood clots forming in the veins or arteries because of an abnormal heartbeat (atrial fibrillation). However, anticoagulant drugs can pose problems when even a minor bleed occurs. Stopping the bleeding can be a challenge even for an experienced professional but not with Celox™ First Aid Granules. Celox™ Hemostatic Granules stop bleeding even in blood that contains the blood-thinning drugs Coumadin, Warfarin or Heparin.
EASY TO USE
To use – tear it open, pour it on, cover and apply pressure. It's that simple! Celox™ Granules easily wash away with water or saline. CELOX Granules are completely
bio-compatible and bioabsorbable. Any remaining granules are safely, naturally absorbed by the body
ORDERING INFORMATION
Shipping & Delivery
For items in stock at the time of order, dispatch will be made within two working days of receipt of an order. Complete Medical Kits will take an extra day or two to supply.
For items not in stock at the time of order we will provide an expected dispatch date from our premises as soon as this information is available.
Please ensure that you supply us with your full and correct shipping address. A physical street address is required and PO Box or Private Bag numbers are not acceptable. If you have any special delivery instructions please advise when placing your order. We cannot accept responsibility for orders that go missing if the address details you have provided to us are incorrect. If you supply us with a false address we will not ship the products. If you fail to supply a valid address after 7 days we will cancel your order.
Orders received on a day which is not an ordinary working day (i.e. a Saturday, Sunday or pubic holiday) will be processed on the following working day.
All orders are given a tracking number so that we can identify where the products are if there is a delay in receipt of goods.
We cannot guarantee a delivery time but we will do everything we can to get your products to you in a timely fashion. Delivery may take up to 5 working days, depending on your location. Items may take longer to get to you during busy periods and public holidays
If you do not receive your purchase within 5 working days please contact Customer Services on info@oceaniamedical.co.nz .